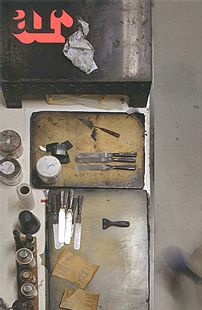 ...
Petit:
Your Chengdu project is based on the rationalist and traditional urban typology of a perimeter block, which is then, however, sliced by a series of expressive cuts which fragment the initial diagram.
I feel that one can extract from this double strategy your affinity with the rational architecture of Aldo Rossi, and, at the same time, with the abstract expressivity of Carlo Scarpa.
Rossi always reconfirms unchanging architectural type-form, while Scarpa never closes spatial figures and always opens form to alternative figures.
How does your architectural poetry related to these seemingly incompatible sensibilities in architecture — to the strict and metaphysical poetry of Rossi, on the one hand, and the lyricism of Scarpa, on the other? It seems like John Hejduk should also be mentioned in this context of poetry; for him, architecture granted access to the realm of angels. Your poetry is more abstract and less mythifying...
Holl:
In the Porosity Block, the light does the slicing, and so does the building code! In fact the cuts assure that every part of the block and the context get maximum light exposure — which is regulated by the local building code.
But it is true that poetry is the most important part of my life. And I loved Aldo. We became friends; I met him in his studio in Milan around 1979. He was a poet.
There is a sense of the ineffable in some of his early work. Just look at those black shadows in his drawings! But when I made a pilgrimage to his Gallatarese and his Modena cemetery projects, I was disappointed, because he cared more about his ideas than about the actual construction.
That is why Scarpa, to me, is ultimately more important. He was one of the great architects. There is a lot of emotional intensity in his work, and you can always go back to his architecture and see something new. He has a great sense of materiality and an understanding of detail vis-a-vis how things are made. And the tectonic joint is so important to Scarpa.
In the end, the real singing of the song has to come out in the movement of the body through the actual space. But there needs to be an idea which drives the design. I am on both sides of the fence that way. I think this is also evidenced in our Chengdu project. Certainly the best way to understand it is to experience the dynamic quality of the space.
And for sure Hejduk was an enormous influence — he was a great man. Poetry is at the heart of architecture. I was mesmerized with John; he was so important to me. Especially his Half-House and the Wall Houses: they were incredible things to me.
And Le Corbusier cannot stay unmentioned. Especially his La Tourette monastery. I stayed there four times in some of the monk cells. I think it is his greatest work. I also like Ronchamp, and I like the church he did with José Oubrerie: those three works contain the most subjective impulse of Le Corbusier. In those three works, you can see many dimensions, and there is always this ineffable space. I never tire of going back.
...
Petit:
You describe yourself as a phenomenologist; you refer a lot to Maurice Merleau-Ponty — the philosopher who published Phenomenology of Perception in 1945.
Can an architectural phenomenon ever speak for itself?
Holl:
No. I definitely believe in ideas driving a design, and that makes me different from any of the other people, who pretend to be phenomenologists. I am very different from them: you must have an idea to drive a design. I am much closer to Peter Eisenman or Zaha Hadid than I am to Zumthor.
Le Corbusier always had an idea; and so did Louis Kahn. That's for me enormously important. I also believe that you don't need to know what that idea is to appreciate a building.
I agree with Ludwig Wittgenstein, when he said that there is no such thing as phenomenology, but only phenomenological questions. Wittgenstein said that ideas are like ladders: they get us to a platform, and when we arrive there, we can kick the ladder away. I think that is really a great statement. In Wittgenstein, every statement is a question. Remarks on Color is a book on all kinds of questions.
I think the time we live in now is so full of change, and that you cannot have a philosophical position in such a situation in which change is so dramatically unpredictable. This is particularly the case in China. So all you can hope to do is to ask questions; and that is what Wittgenstein did.
...